Nationally recognized author, parent, and family internet safety advocate.
On a mission to promote awareness of cyberbullying, digital shaming and online reputation management
Founder and President of Parents' Universal Resource Experts Inc. (P.U.R.E.™), Sue Scheff has been leveraging her personal experiences to help others through her organization since 2001. 
After being stalked, harassed, bullied and slandered online – in 2006, Scheff won a landmark case for internet defamation with an $11.3M jury verdict. 
Since then, she's been an advocate for cyberbullying prevention and promoting the importance of online reputation. 
She has three published books, Wit's End (HCI 2007), Google Bomb (HCI 2009) with a foreword by Michael Fertik and her latest, Shame Nation: The Global Epidemic of Online Hate (Sourcebooks 2017) with a foreword by Monica Lewinsky.
It's firsthand experiences and years of advocacy that separates Sue Scheff from others in the field of online safety and digital wellness. Do you need an expert for your next article, TV segment, podcast, radio, webinar, conference, or event on the following topics:
"Until you have survived a digital Scarlet Letter, many are unaware of how deep the emotional scars are and how long they can last. My cyber-shaming attack happened when I was an adult, I completely understand the new word that we are now hearing too frequently – bullycide…."
"The very weapon that destroyed you online becomes the tool that rebuilds you — the internet."
"Never underestimate the financial destruction online shaming does to people – to this day I have shared that it was my lawyer that vindicated me but online reputation management that gave me my life back."
"Our keystrokes are powerful,. They can either send out kindness or they can send out cruelty. It's up to us."
Books By Best Selling Author: Sue Scheff
Sue Scheff has three published books. Her latest, Shame Nation: The Global Epidemic of Online Hate (Sourcebooks, 2017) with Melissa Schorr, features a foreword by Monica Lewinsky.
Her second book, Google Bomb (HCI, 2009), with a foreword by Michael Fertik and co-authored by the late Internet attorney, John Dozier, tells the story of how she won the $11.3M online shaming landmark case in Florida and recovered from Internet disaster.
Her first book, Wit's End: A Parent's True Story (HCI, 2007), details how deceptive the teen-help industry can be and shares how Sue created her organization that has since helped thousands.
Sue has been sharing her story and empowering audiences across the country at speaking engagements. Today your online reputation is the first impression people have of you — it can literally change the direction of your career, job and your life, as well as your teen's college choice.
Learn more about the topic's Sue can discuss at your next event.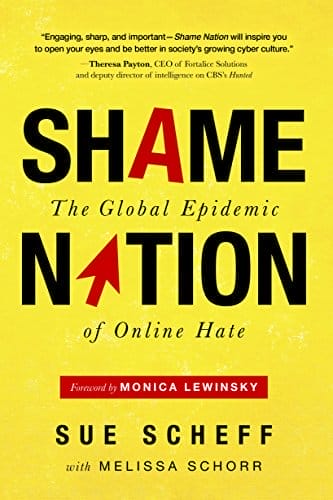 The Global Epidemic of Online Hate
As a Cyber Advocate, Sue Scheff is concerned with Internet users both young and old as it pertains to cyber safety and security. She is a strong voice against cyberbullying, pubic and online shaming, and building your digital reputation. Scheff understands the need to bring awareness of bullying by and against people of all ages.
In addition to educating parents and their children on the importance of building and maintaining a positive online presence, she stresses the importance of conducting themselves appropriately online, just as they would in real life. She advises parents on how to approach their teens about any online issues they may have encountered, and how to monitor their kids' online activities to ensure their safety without invading their privacy or stifling their sense of autonomy.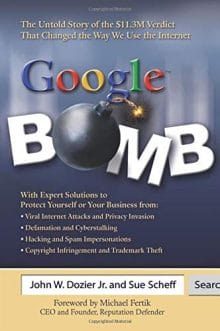 The Untold Story of the $11.3M Verdict That Changed the Way We Use the Internet
In 2009, Scheff authored her second book, Google Bomb: The Untold Story of the $11.3M Verdict That Changed the Way We Use the Internet (HCI), detailing the events of this landmark trial.
Sue Scheff released her third book, SHAME NATION: The Global Epidemic of Online Hate (Sourcebooks, October 2017). Shame Nation offers firsthand stories, resources and advice to prevent and overcome online hate and digital discourse. With over 25 contributors and experts from around the globe, Monica Lewinsky pens a beautiful foreword in Shame Nation on public humiliation and the need for empathy and digital resilience online. As seen on Dr. Oz, order today. Praise for Shame Nation.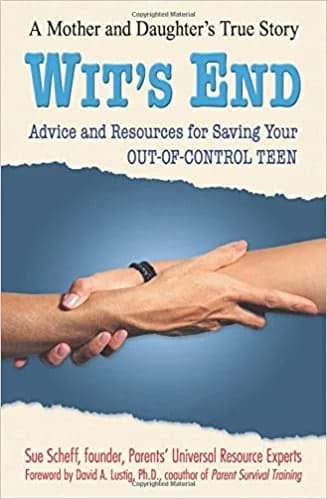 Advice and Resources for Saving Your Out-of-Control Teen
Sue Scheff has written several books on the subject of helping parents and teens, including her 2008 book "Wit's End: Advice and Resources for Saving Your Out-of-Control Teen". 
The book is based on Scheff's own experiences with her daughter who was struggling with addiction and mental health issues. In addition to her book, she has also published numerous articles on the subject of parenting and helping teens in crisis.
Best Selling Author and Expert on  Educating Parents on Cyber Safety  
Sue Scheff has been featured on many media outlets including radio, television and in print for her advocacy work in parenting and cyber-safety and online reputation.
Recently on CBS This Morning, she discussed the importance of your offline behavior and the consequences it can have with the majority of people armed with smartphones today.
"What goes online can have serious and lasting consequences, whether it's true or not." – Sue Scheff 
Over 500 newspapers have featured Sue Scheff and her victories in the legal arena with child advocacy, Internet defamation and invasion of privacy, including a 4-Part LA Times Series, Washington Post, Huffington Post, Wall Street Journal, USA Today, AARP, and many more.
"Sue Scheff, This is the lady from Naples, Florida who first called you in March. I am happy and relieved to say that my son [names withheld]. He has been there about a week. I hear so far, so good. I am grateful that our path's crossed on the internet and I found Pure and yes that you called me back right away and took the time to talk to me. Thank-you very much Please continue your much needed help to others"
"Dear P.U.R.E.™ and Sue, I just wanted to give you an update. It was unbelievably difficult, but I feel sure that I made the right choice. She is beginning to admit that she has some issues to work on and I can rest assured that she is safe and well cared for. I knew that, if I kept her at home, it was only a matter of time before I would have gotten a call from the police dept., the emergency room or, heaven forbid, the coroner's office. You may have helped me save my daughter's life"
"Dear Sue, Your statement about my son is on point. He acquainted himself with bad friends. He was averaging 85 one school term then dropped dramatically to a 59 the second term. Thank you so much."
"Dear Sue Scheff, Thank for your help it's so hard to find help for children theses days. So when I seen your response it just brighten my day so I just want to say thanks."
"Sue Scheff, Thank you for the help. Since I have been in touch with you and I'm feeling a little more positive about our situation. Thanks for your service."
"Dear Sue, Thanks for following up, and for readily providing information when I first inquired. Right now, we're still sorting out timing and steps to be undertaken for placement (with current school agreement) and hospital. Many thanks for the service you provide."
"Dear Sue Scheff, Thank you so much. It is interesting to know that we are not alone. And although I wish that no one would have to go through what we are going through, it is nice to know that there are so many others that are having similar difficulties and can offer support. Thanks again"
"Sue Scheff, Thank you for all your help and recommendations. We are trying to work with a psychologist and I've set up counseling at his present school. Thank you again for all your help. I cannot thank you enough for your honesty. God Bless. Keep up the good work."
"Dear Sue, Thank you so much and thank you for your efforts in helping other parents. God bless!"
"Dear Sue, I wanted to reach out to say thanks for the help. Thanks for taking the time to walk me through your experience and offer me some options. I desperately needed your help and will be forever grateful for the time you spent with me."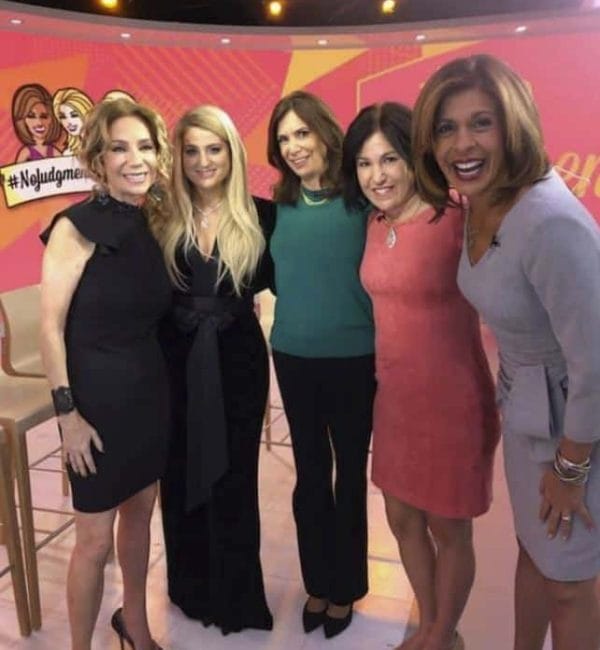 This blog explores some common pitfalls Internet users of all ages may face in the world of Web 2.0 and social media, as well as the best practices to avoid hazards that may potentially damage online and real-world relationships and reputations. 
Please feel free to reach out to Sue Scheff with any questions, concerns, or inquiries about availability for speaking engagements. 
If you are interested in P.U.R.E.™ please visit helpyourteens.com and fill out their contact form to be contacted more promptly regarding your concerns or questions.