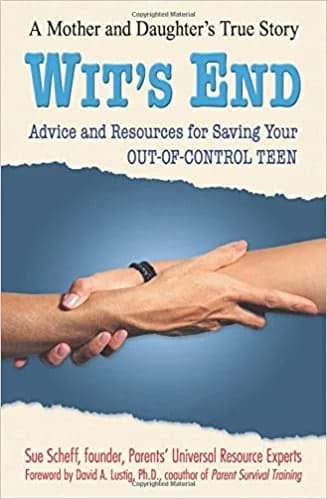 Advice and Resources for Saving Your Out-of-Control Teen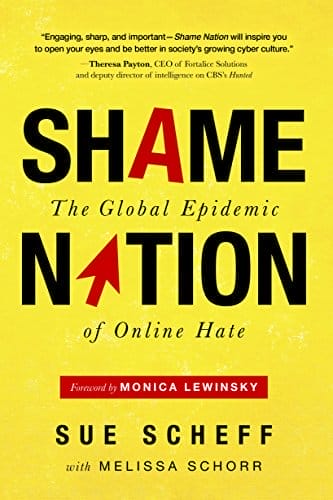 The Global Epidemic of Online Hate
The Untold Story of the $11.3M Verdict That Changed the Way We Use the Internet
Written With the Modern Parent In Mind
Sue Scheff is a Nationally Recognized Author, Parent Advocate and Family Internet Safety Advocate. She founded Parents Universal Resources Experts, Inc. in 2001. 
After being stalked, harassed, bullied and slandered online – in 2006, Scheff won a landmark case for internet defamation with an $11.3M jury verdict.  Since then, she's been an advocate for cyberbullying prevention (online shaming) and promoting the importance of online reputation. 
Since then, Sue has provided invaluable information and resources to countless families in crisis and professionals and organizations struggling with their online reputation.
Shame Nation: The Global Epidemic of Online Hate. Sourcebooks. Oct. 2017. 332p. illus. notes. index. ISBN 9781492648994. $25.99. SOC SCI Shame Nation is primarily a self-help book for those who are facing an Internet scandal, or who are living through an online shaming campaign. The last few chapters include helpful hints and online resources for avoiding and dealing with scandals. The real interest here comes from the stories of others who have brought down scandal upon themselves. Cyberadvocate Scheff and Schorr (Goy Crazy) include story after story featuring trolls, sex-related embarrassment, mistakes caught on tape, swatting, and fat shaming. It may well make the reader paranoid about the reach and power of Internet culture, but the tales are shamefully fascinating. The book does not dwell on the psychological or sociological aspects of trolling or shaming, emphasizing practical advice instead. With a foreword by Monica Lewinsky, this would be a good read for anyone who enjoyed Jon Ronson's So You've Been Publicly Shamed. Verdict A fun and scary collection of Internet wrongdoings, with some helpful advice on how to avoid them.—Jessica Spears, Brooklyn PL.
SHAME NATION talks about many incidences of bad behavior online. Some occurred on a large scale, some on a small scale. Some involve famous people, others people who could be your next-door neighbor. The types of behavior are pretty broad in scope - trolling, abusive memes, online stalking, extortion, revenge porn, online harassment, etc. Scheff discusses the subjects in detail, with tips on reputation management, how to be safe online, how to recognize and deal with online harassment when it happens to you, and the various forms it can take. Sometimes books like these can be preachy or laughably out of date, but SHAME NATION was neither. If anything, Scheff shows just how "gray" the internet is when it comes to the mob mentality of vigilante justice/injustice, and how quickly witch hunts can develop.
Read full review from Readasuarus.
"Nearly every day, there is another story in the news of someone who has been harassed, bullied, or shamed on the internet—and the results of this online hate can be devastating. Sue Scheff, a parent advocate and internet safety expert, and Melissa Schorr, a journalist and young-adult author, tackle the digital epidemic of cyber-shaming in Shame Nation. The stories of cyber harassment presented in Shame Nation are harrowing and often familiar. They include mean mom groups, parent and teacher shaming, sexting scandals. The authors demonstrate that no one is immune to the reach of the internet. A single tweet or Facebook post can change, or even ruin, someone's life. It's no secret that sometimes social media causes stress in teenagers. However, studies show that social media causes the most distress to middle school social media users. According to a study commissioned by CNN called Being Thirteen, "Forty-two percent reported having a serious conflict with someone online at least monthly," says Robert Faris, Ph.D., a sociologist at the University of California Davis. Faris, who worked with CNN on the study says, "The majority of them said it was with friends. And we're not talking about Facebook friends. We're talking about close friends." "Shame Nation is a terrific parenting resource, one that combines real-life cautionary tales with practical solutions for every scenario." -
Your Teen Magazine
This is a welcome and timely guide to practical Internet use. Scheff, a parents' advocate and Internet safety activist, suffered from an anonymous smear campaign and wrote this book with journalist Schorr to advise the many others who have experienced or fear similar attacks. From "sextortion" to cyber humiliation, Scheff explains how shame happens, how to defend yourself online, how to weather the storm, and how to recover from attacks on your reputation. Like most social problems, solutions and remedies arise through experience and time. Scheff details many of the organizations and companies that have been created to combat the scourge of shame online while providing many case studies, stories of survival, and campaigns of support There is a chapter on trolls, and how to deal with them, but little specifically dealing with the partisan political trolls poisoning our democracy. Parents will find the book's advice useful in protecting their children from danger as they explore online, as will anyone who has made a hasty comment or tweet and lived to regret it. Shame Nation is a strong addition to any collection.
Shame Nation named one of the best nonfiction books coming in October 2017.
Make-It-Better list Shame Nation as a 9 New Must-Read Parenting Books With kids spending so much time online both in and out of school, it's more important than ever that parents and kids are on the same page when it comes to taking charge of their digital lives. This book by parent advocate and internet safety expert Sue Scheff, with a poignant foreword by Monica Lewinsky, offers practical advice based on fascinating firsthand accounts of public shaming online. While not specifically a parenting book, it details what families can do to promote a safer, kinder, better internet. – Make-It-Better The Best Books To Give College Students by Grown and Flown features Shame Nation book.
"Smart. Timely. Essential. Shame Nation is the era's "must read" to renew internet civility where humiliating, criticizing and judging are normalized. And there is no one better than Sue Scheff to share how to prevent as well as rebound from digital shaming. Her own battle against cyber-shaming riveted the world and changed the way we use the Internet. Scheff's sage advice and realistic tips for cyber-etiquette are indispensable and must be heeded for any hope of a civil existence and restoring empathy in cyberspace." -Michele Borba, Ed.D. educational psychologist, author of
Unselfie: The Surprising Role of Empathy in Preparing Children for Happiness and Success
"Public shaming is sweeping our world. Sue Scheff knows digital shaming better than anyone. A leading expert in the digital world, Scheff offers the latest insight as to why people publicly shame each other and will equip readers with the tools to protect themselves from what has now become the new Scarlet Letter. SHAME NATION is a must read for anyone who is online!" -Ross Ellis, Founder and CEO,
STOMP Out Bullying
"Bravo Sue Scheff for rising above the negativity directed at you on the internet to create a book that everyone needs to read so they can avoid being the next victim. Engaging, sharp, and important – SHAME NATION will inspire you to open your eyes and be better in society's growing cyber culture." -Theresa Payton, CEO of
Fortalice Solutions
and Deputy Director of Intelligence on CBS' Hunted
"We all have the power to create the inclusive Internet reality that we so desperately need. Scheff recognizes that participating in that creation can be overwhelming and intimidating, especially given the personal risks we face as women who want to join a public discourse, and provides in Shame Nation a clear-eyed, approachable guide to facing a hostile online environment while maintaining our dignity and sanity." -Emily Lindin, Founder and Director of
The UnSlut Project
"This book offers readers an important and eye-opening exploration into how public shaming transforms lives in the digital age. By humanizing today's digital interactions, Scheff and Schorr show readers how to recognize, protect, and, when needed, restore their digital identity." -Stacey Steinberg, Legal Skills Professor, University of Florida Levin College of Law
"Relatable, intelligent, and engaging from the first sentence, Shame Nation sheds much-needed light on our current culture of online shaming and cyberbullying. Thoroughly researched and packed with eye opening anecdotes, Shame Nation will help you learn why people choose to shame one another online, and what to do if it happens to you or a loved one. Sue Scheff is an invaluable resource in the digital world and this book should be required reading in high school, college, and the workplace." -Katie Hurley, LCSW author of No More Mean Girls and The Happy Kid Handbook
"Shame Nation is a book that illustrates the harm our culture of shame can wreak when we fail to instill a sense of empathy and kindness. Sue Scheff's advice, couched in examples from current events, has already changed the way I approach social media. Her words have caused me to stop, think, and approach my online relationships from a place of respect, even when I'm angry or apt to reach for the keyboard in retribution for a perceived slight. Shame Nation is a practical and helpful book that forges a way forward through the gauntlet of social media and online shaming while encouraging an ethical approach to an increasingly judgmental world." -Jessica Lahey, Author, New York Times bestseller The Gift of Failure: How the Best Parents Learn to Let Go So Their Children Can Succeed, Writer, The Atlantic, New York Times, Vermont Public Radio…and the podcast "#AmWriting with Jess & KJ"!
"With online cruelty and shaming at an all time high, the Internet can be hurtful and harmful, leaving irreversible damage on its victims and their families. But rather than shrugging our shoulders and closing our eyes, we can empower ourselves through the practical advice and protective measures outlined in Shame Nation. Not only does Sue Scheff show us ways to respond when digital damage occurs, she can help us prevent it. I will be recommending this book to everyone I know. Shame Nation holds that elusive key to stopping the trend of online hate so kindness and compassion can prevail." —Rachel Macy Stafford, New York Times bestselling author of
Hands Free Mama, Hands Free Life
, and Only Love Today
"There is no better time than the present to deal with the issues that Sue Scheff presents in Shame Nation. Finally there will be sage advice and necessary tools to understand and help each other live in the society-shaming environment we all share." -Stacey Honowitz, CNN legal analyst, sex crimes prosecutor and
author
"Hardly a day goes by without another vivid example of online hate or cyberbullying in the news. Sue Scheff is determined to put an end to this culture of online shaming with her new book. Brimming with captivating stories of online abuse that keep you hooked, the real rewards of this book are its powerful tips aimed at keeping you from becoming a victim and, more importantly, sage advice on what to do should you find yourself the target of any online abuse. This book is the must-read survival guide for anyone who uses the Internet today." -Diana Graber, Founder of CyberCivics and co-founder of
Cyberwise
"The key to cultivating safer (digital) communities lies in fixing the Cause through prevention, not the Effect through reaction.To create a kinder and more tolerant society each of us must do our part. This incredible work by Sue Scheff illustrates why – and more importantly – how! Shame Nation isn't just a must read for all parents and teachers, but for every human that desires a more thoughtful and empathetic community in our global village." -Richard Guerry, Executive Director of
The Institute for Responsible Online and Cellphone Communication
, author of Public and Permanent & the Cyman's Cyber Safety Tales Series
"In a world where pronouncements of 140 characters are the rule of the day, where impersonal combatants wage daily war on civility, and where our attention span lasts no longer than a Snap, Shame Nation is a must-read for everyone. From Baby Boomers to Millennials, social media is a societal game-changing phenomena impacting our family, friends, communities, education, politics and employment. In a refreshingly objective and non-judgmental style, Sue Scheff analyzes this new digital reality and how it has quickly come to redefine how we view privacy, acceptable behavior, reputation, and opportunity in the 21st century. Sue astutely maps where we are and then takes us on the path towards recovery and digital rejuvenation." -Alan Katzman, Founder of Social Assurity LLC
"Filled with compelling and relatable stories, interviews and quotes from celebrities and experts, and practical strategies, expert Sue Scheff's new book powerfully portrays the all-too-real phenomenon of online shame. Either it has happened to us, or to someone we care about – and so much of what is conveyed connects immediately and viscerally with the reader. But there are solutions, and there is hope – as she explains. Take the time to read it." -Dr. Sameer Hinduja, Co-Director of the Cyberbullying Research Center
Parent & Cyber Safety Advocate
A strong voice against cyberbullying, pubic and online shaming, and building your digital reputation.
As we increasingly engage with technology throughout our everyday lives, we often do not realize that our actions online have consequences in the real world.
Sue Scheff is an award-winning author and expert on parenting in the digital age. She has dedicated her life to helping parents protect their children online.
Sue's books are full of advice and tips that parents can use to make sure their kids are staying safe and smart on the internet. She understands that parenting during our tech-filled era can be daunting and her work makes it easier for parents to keep their children safe.
She is also a dedicated advocate for children and families. She works with schools, community organizations, and the media to give parents the tools they need to protect their children online.
This blog explores some common pitfalls Internet users of all ages may face in the world of Web 2.0 and social media, as well as the best practices to avoid hazards that may potentially damage online and real-world relationships and reputations. 
Please feel free to reach out to Sue Scheff with any questions, concerns, or inquiries about availability for speaking engagements. 
If you are interested in P.U.R.E.™ please visit helpyourteens.com and fill out their contact form to be contacted more promptly regarding your concerns or questions.