What is digital shaming?
Digital shaming is a being electronically attacked online – similar to cyberbullying with a goal to humiliate, embarrass, spread lies or twisted truths about a person – it can literally destroy people's lives – financially and emotionally.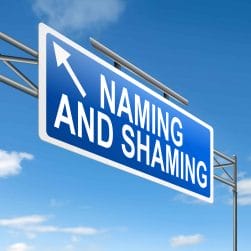 This is exactly what happened to me back in 2003 when I received my Scarlet Letter of cyber-humiliation. In those times, online reputation management (ORM) was unheard of, and social media networking was yet to be part of the virtual landscape. The survival rate of being digitally shamed in the early days of the Internet were very slim.
I was one of the lucky ones
Being able to hire an attorney, sue for Internet defamation and invasion of privacy, in 2006 I won a landmark case in Florida when a jury awarded me $11.3M verdict for the damages that were done to my organization and myself online.
By 2006 when I won my case, I was both financially and emotionally crippled. What should h
ave been a celebration was short-lived when I realized that although Lady Justice cleared my name, the Internet never forgives or forgets.
Fortunately for me, the first reputation management company opened their doors that summer and I was one of their first clients. I have and continue to say in all my speeches and writings, my attorney vindicated me, however it was ReputationDefender that gave me my life back.
The old saying, you don't get a second chance to make a first impression is no longer related to a handshake or your in-person interview — it's your digital resume that people will usually judge you on before ever meeting you in person.
CareerBuilders survey's every year has shown an increase of employers that are discarding potential applicants due to their social media content and behavior. Going offline is not the answer – since these same survey's also reveal that company's won't hire you if they can't find you online.
The impact of online shaming
From owning a business or building your career, the fact is if you're a victim of cyber-shame it can damage your financial future dramatically.
People don't take the time to decipher Internet fact from Internet fiction, they will simply move on to the next doctor, lawyer or piano teacher or whatever your profession is.
The emotional impact of digital shaming can be overwhelming. You feel completely helpless and fear what bomb will drop next online.
As someone that has lived through the cycle of online shaming (and survived), I've learned many ways to prevent, maintain and overcome this experience.
Prevention and maintenance:
Did you know that 84 percent of people trust online reviews as much as a personal recommendation? (Consumer Review Survey 2016)
Address negative reviews promptly & professionally.
Take them offline if possible – do your best to make it right.
Build your social authority: The ask. 7 out of 10 consumers will leave a review if a business asks them to. 73 percent of consumers believe that reviews over 3 months old are no longer relevant.
Stay present. 54 percent of consumers will visit your site after reading positive reviews. Your website should be updated frequently, but it's your blog that's an extension of your business card today. It lets your potential client/consumer know you're interested in your field. A blog should be inside your website.
Set your Google alerts "and" Google yourself and business regularly. Be aware of what is being said about you online so you're prepared to address it.
Overcoming cyber-humiliation emotionally
Getting your footing back on track digitally may take time, but with diligence and dedication to your online reputation, you will be able to build back your virtual presence.
Emotionally, it can sometimes take a bit longer. Being virtually attacked is an experience that can last a long time. Unless you have walked these shoes, it's hard for people to understand. Having a friend(s) to talk to helps — and is imperative since this can be so isolating when you feel the entire world is laughing at you.
To start healing emotionally:
Permit yourself to be angry. I always thought being angry allowed my trolls to win. That's not true. Being angry can actually energize you to recover.
Take care of yourself – physically. We focus so much on our digital life, we neglect ourselves physically. Get outside of your home, take daily walks, join a gym, exercise.
Get perspective and find humor with your haters. When you are able to reflect on your haters, you will realize, they just don't matter. You will eventually find humor in your haters.
Acceptance, moving forward with your shame, finally realizing it doesn't define you and this is your opportunity to redefine your reputation.